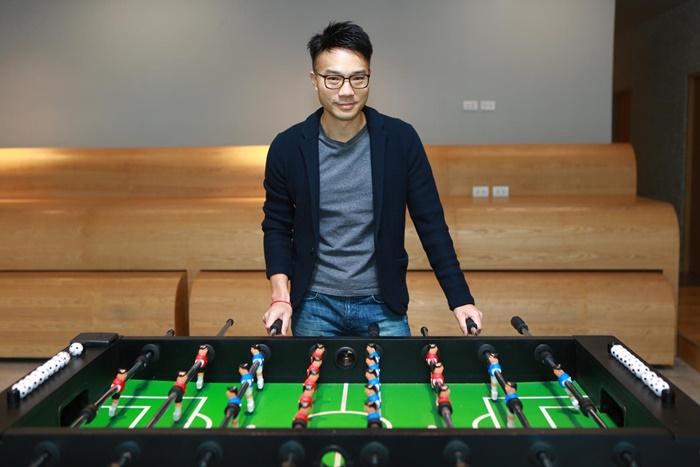 คุณกฤตธี มโนลีหกุล Tencent's global-minded Thai boss
บทสัมภาษณ์พิเศษ คุณกฤตธี มโนลีหกุล กรรมการผู้จัดการ บริษัท เทนเซ็นต์ (ประเทศไทย)
จากหนังสือพิมพ์ Bangkok Post ฉบับวันที่ 24 สิงหาคม 2562

Krittee Manoleehagul enjoyed a front-row seat as tech boomed in America and Asia.
Living outside the box with full international experience plays a crucial role in shaping how Krittee Manoleehagul handles the work at Chinese internet titan Tencent, where he serves as general manager for the firm's international business group in charge of Thailand, Indonesia and Myanmar.
Mr Krittee, one of only a few of the 200 global executives of Tencent who don't speak Chinese, is the point man for the group's business endeavours in Thailand, which is being eyed to serve as the company's hub in Southeast Asia. He also serves as managing director of Tencent Thailand Co.

Banking family scion
The 42-year-old recounts how his parents brought him to the US when he was young because his mother, who worked for the Bank of Thailand, had to help the central bank set up a representative office there.
Although he was raised in a banking family, he realised that working at an office in suit and necktie might not be his style, since he favours art, design and architecture.
He decided to study engineering -- also his parents' wishes. He earned a bachelor's degree in engineering from Brown University in the US.
After graduation, he began working as a civil engineer in construction operations, something that he later discovered was not what he wanted to pursue.
He was then recruited by US-based IT consulting firm CGI, where he worked for five years. The company gave him an opportunity to get involved with the tech world for the first time.
Living and working in the US, he witnessed the tech boom in the 1990s and the dot-com bubble during 1999-2000.
In early 2000, Google had just made a start and the search engine had become something of an internet encyclopedia, a phenomenon that changed people's behaviour when looking for information online, Mr Krittee says.
In mid-2000, Facebook debuted and changed the way people connected with others via social networks.
In 2006, Mr Krittee earned an MBA in marketing, finance and strategy from the Kellogg School of Management at Northwestern University.
Despite turning his back on engineering, he says the subject instilled in him the importance of logical thinking and problem-solving skills. Engineering also enabled him to keep track of new developments with applications in the tech industry.
Tencent's music streaming app Joox was introduced to the Thai market under Mr Krittee's leadership. He had to think thoroughly about how to attract Thais to the platform, while remaining mindful of the need to grow financially.
For the first time, the platform offered a "freemium" model whereby users could either listen to music for free with advertisements, or pay for a VIP subscription without ads. Joox has now become the market leader of this kind in Thailand.

South Korean start
Mr Krittee began working in Asia with Samsung's global strategy group in South Korea. He held positions at various Samsung businesses, including Samsung Electronics and Cheil Worldwide.
He then had a chance to work for hotel and airline booking platform Expedia in Hong Kong, staying on for four years.
Mr Krittee was invited to work for Tencent in Thailand after the tech giant purchased the popular Sanook.com website. Sanook had been bought in 1999 by South Africa-based MIH Group, which sold out to Tencent in 2010.

Small steps
When Mr Krittee first returned to Thailand, the internet business remained small and only Pantip.com and Sanook were gaining traction.
By 2012, many tech operators had begun feeling their way through the Thai market, including Lazada, Uber, Facebook and Line, which drew expertise and talent to the country. Since then, online businesses have boomed.
Mr Krittee helped redesign the Sanook.com portal and made it more efficient. Sanook, which is strong in local content, was pushed to foray into other business opportunities. Sanook Online Co was renamed Tencent Thailand Co in 2016 to reflect its position of becoming an entertainment platform.
With his innovation mindset, Mr Krittee picked potential products and services from Tencent and customised them for the Thai market.
In his view, Chinese companies have a culture of hard work and a willingness to take risks if they spy opportunities. The local team at Tencent clearly understands the market and can usher in products that suit local users, he says.
Joox is one of the company's key offerings to Thai customers. The app has reached 70 million downloads.

Next milestone
In early 2019, Mr Krittee expanded the business to tap corporate customers and business-to-business (B2B) through cloud computing services, artificial intelligence and facial recognition technology -- all brought from China and customised to serve the Thai market.
Through his extensive experience in different multinational firms, Mr Krittee has learned how to run operations under different circumstances and cultures.
For its part, Tencent instils staff with a sense of spiritual entrepreneurship. Half its employees are part of the Gen Y cohort.
Mr Krittee supervises 250 staffers locally and exports capable people at the management level to work for Tencent in other Southeast Asian countries, including Indonesia and Myanmar. "This is one of my proudest things," he says.

Southeast Asian hub
Mr Krittee's next ambition is to build the Thai office into a hub for Southeast Asia by next year as Tencent shifts focus to emerging markets.
Tencent regards Thailand as one of the group's strategic countries outside of China, he says. The company launched WeTV in Thailand as the first non-Chinese market for the video-on-demand app and invested in a local data centre to provide cloud-based services.
"We will bring our best practices here and export them to other Southeast Asian countries," Mr Krittee says, adding that the firm's local management will be tasked to deal with regional markets.
Mr Krittee notes that his chosen field is dynamic in terms of technology, customers and even regulations.
Working for global giant Tencent gives him a chance to discuss the industry's rules with policymakers and create value for all parties in the ecosystem, including shareholders, employees, business partners and customers.
"We always say 'digital disruption', but I prefer to say 'digital technology', which can serve as a bridge between conventional business and modernised business in the online world," Mr Krittee says. "For example, we can see old retail businesses shifting to new retail, and conventional ways of listening to music shifting to streaming."

Cultural diversity
Working in varied cultures gave him valuable experience, he says. In the US, the focus was on transparency, collaboration and systematic work, while Chinese operations always seek opportunities and take risks.
"Living abroad for 15 years allowed me to grow up making my own decisions and adapt to changes in the face of diversified cultures," Mr Krittee says.
According to him, thinking outside the box and loving arts and creativity can also be applied to the tech industry, in which new ideas are need to craft innovative products.
It's no accident that under Mr Krittee's leadership, Tencent rolled out Joox music streaming, online gaming and WeTV for the Thai market.
"I am quite lucky to work with what I love and have fun with," he says. "I love to play games, listen to music and watch movies. These are what I work for and have fun with at the same time."
Another love is yoga, an activity that provides him with time to himself after working with countless people every day.

________________________________________
BIO DATA
Krittee Manoleehagul
Age: 42
EDUCATION
- Bachelor of Science, civil engineering, Brown University
- Master of Business Administration, Kellogg School of Management, Northwestern University
CAREER
- 2019-present: Managing director for Thailand, Indonesia and Myanmar, Tencent
- 2012-present: Managing director, Tencent Thailand
- 2008-12: Business development director, Expedia Asia-Pacific
- 2006-08: Global strategist, Samsung
- 2005: Senior associate, Diamond Management & Technology Consultants
- 1999-2004: Senior consultant, CGI
FAMILY
Married with two children
HOBBIES
Yoga, swimming, travel, technology

ข้อมูลจาก : https://www.bangkokpost.com/business/1735955/tencents-global-minded-thai-boss